Booking and Enquiry Hotline: +353 (0)86 3850568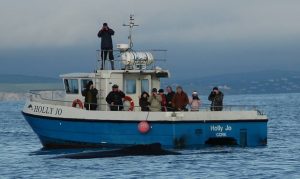 Find out more about our West Cork Whale Watching and Marine Wildlife tours by ringing the number above. Or you can send us an email using the convenient contact form on this page.
NB. If you'd like to book places on a whale watching trip please complete the booking enquiry form on our Schedule and Bookings page.
Our postal address is:
Colin Barnes
Cork Whale Watch Inane, Castletownshend, Skibbereen Co. Cork, Ireland
Please fill in and submit the form below and we'll respond to your query as soon as we can.