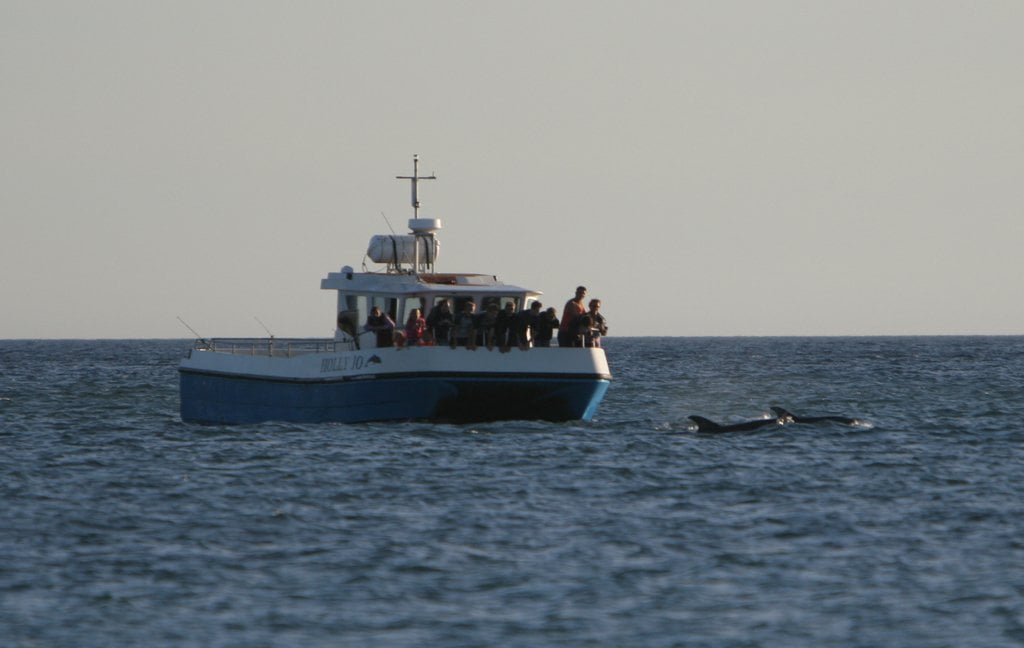 Customers enjoying an encounter with Bottlenose Dolphins from the bow of the Holly Jo
The Holly Jo (named after Colin's two daughters) was launched in 2001 as Ireland's first purpose-built whale watching vessel. She is a thirty six-foot catamaran, selected by Colin for her sea-keeping ability, comfort and maneuverability. Chances are if you've seen whales filmed in Irish waters, they were filmed from the Holly Jo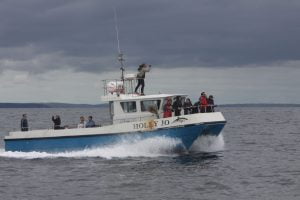 The Holly Jo is an unrivalled platform for unimpeded 360 degree views, has all-round hand rail support and low bows that allow young children to watch wildlife safely and easily. The rooftop viewing platform offers a high vantage point for film crews and cetacean researchers, and for crew members to find cetaceans. Access is by permission from skipper.
She has a spacious deck with ample outside seating, and an enclosed cabin with upholstered seating and a small galley for making free tea and coffee. There is a toilet on board, which is to say the least "cosy".
Holly Jo  is fully licensed by the Irish Dept. of Marine and insured to carry twelve passengers and is fully equipped with all relevant safety equipment (with a sixteen man life raft), life jackets for all ages and first aid facilities.