Whale Watch Trip Availability (Viewing only). Click "Book Now" link below if booking.
Use the calendar to check trip availability. Ready to book? Call 00 353 (0)86 3273226… more on trip availability
We provide dedicated whale-watching trips out of Reen Pier, near Union Hall, West Cork, subject to weather, from March to November. Subject to demand and suitable conditions we may run trips into December/January — get in touch or keep an eye on our Facebook Page for updates.
We operate one trip each day, usually in the morning, and our trips are a minimum of 4 hours duration, often longer.
Whale Watching in the North Atlantic is weather dependent and we can't run trips every day. Please check our Availability Calendar to see when our next trip with spaces is heading out. When you find a suitable date/time, you can contact us on 00 353 (0)86 3273226 to book your place(s).
We have a 24 hr cancellation policy. If you cancel giving us less than 24 Hrs notice, or decide not to take up your booking at the last moment, we expect you to pay in full (or in part) for the place(s) you have blocked for others.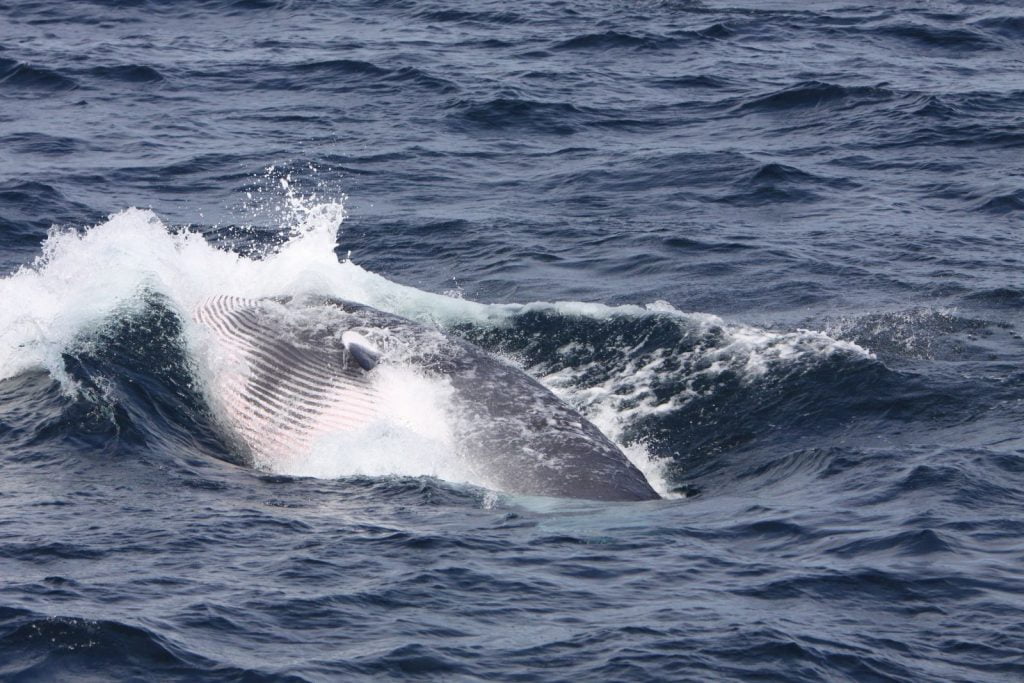 Whale Watching Timetable
We operate trips daily when conditions are suitable, departing 10.30am and returning 2.30pm at the earliest (often a little later)
Book your West Cork Whale Watch Trip Now…..
To find out more about our upcoming trips, or to book your places, please call +353 (0)86 3273226

Trip Prices
Standard adult rate : €60 per person
Children (under 18 years): €45
Full time students (with valid Student ID card): €50
Charter trip for groups/larger families: €600 for 4-5 hour trip (Max. 12 Passengers)
*Voucher holders (Please inform us you intend to use vouchers when you book and remember to present your vouchers as payment on the day)
NB: Colin accepts payment for trips on board at the end of the voyage. You can pay by cash or using any major credit or debit card aboard the MV Holly Jo.
We can invoice larger groups on request, particularly for educational trips, film and research projects.
If you have to make a cancellation
Sometimes, for whatever reason, passengers may have to cancel their trip. Please ensure that you contact us at the earliest opportunity if you find you cannot keep your booking, as during busy months we often have a waiting list and can offer your place to someone else. We operate a standard 24 hr cancellation policy. If you cancel giving us less than 24 hrs notice, or decide not to take up your booking at the last moment without good reason, we reserve the right to charge in full (or in part) for the place(s) you have blocked from others.
If we have to cancel to weather
We operate trips based on the most reliable weather forecasts available, and it is rare that confirmed trips need to be cancelled. However, your safety and comfort is our priority, so if sea conditions turn out to be unsafe or unsuitable, we reserve the right to cancel any trips and we'll make every reasonable effort to let you know in advance. But the onus is on you to keep informed of any pending weather situation which may effect your trip, and the best way of doing this is via our daily Facebook updates or by calling us to check the weather situation a day or two before your trip.
Please make sure the contact details you give us when you book are the ones we can get in touch with you on during the days running up to your trip, so that we can let you know of any last minute changes occur.
Finding Reen Pier
Reen Pier is 4 kilometres outside the village of Union Hall, West Cork. From Clonakilty, Leap or Glandore direction, go into Union Hall village and drive through the main street until you reach a large church on your left (heading away from village). Take a left turn at St. Bridget's church; Reen Pier is signed at this point. Take 1st right after 300 metres (again signed for Reen Pier) and stay on this road, keeping the lake on your left, and you can't miss Reen Pier. It's a 4-5 minute drive from Union Hall to our car parking area. With beautiful Castlehaven Bay on your right hand side, the car parking area is marked by a "Cork Whale Watch" sign, and is about 200 mts before the pier itself; here you will find plenty of free car parking. Once parked, you should continue to walk the final 200 mts along the road to the pier where the Holly Jo will be waiting for you. We'd ask that you do not park on the pier itself, as it may obstruct commercial vehicles and you risk having your vehicle removed.
If you are traveling from the Skibbereen or Castletownshend direction, the church is on your right side, before you get into the main village, and take a right at the church, and follow the signs as above.
Our GPS location is N 51.5318 W -09.16529 or N 51 31.910 W -09 09.918″ and the Eircode/Postcode for the parking area at Reen Pier is P81 T862.
Estimated drive times from Co. Cork locations given in minutes
Union Hall (5), Leap (10), Rosscarbery (15) Glandore (10), Clonakilty, (35)
Bandon (50), Innishannon (60), Kinsale (80), Courtmacsherry (60)
Cork city (90), Blarney (100)
Middleton (100), Youghal (120)
Enniskeane (45), Drimoleague (35), Dunmanway (40)
Macroom (70), Mallow (110), Fermoy (120)
Skibbereen (30), Ballydehob (40), Schull (50), Baltimore (30)
Durrus (60), Bantry (75), Glengarrif (80), Castletownbere (120)
Estimated drive times from Co. Kerry locations in minutes
Killarney (150), Tralee (180), Listowel (200), Kenmare (120)
VERY IMPORTANT: WE SUGGEST YOU ARRIVE AT REEN PIER WITH AT LEAST TEN MINUTES BEFORE DEPARTURE TIME.
Public transport to Reen Pier is NOT available from the Irish bus service provider, Bus Eireann and taxis are not reliable. So if you don't have a car, you should be prepared to hitch hike from Union Hall village or arrange a lift with your local accommodation provider.
What to bring on your whale watching trip (SEE FAQs)
Even on the finest day, as the 'Holly Jo' picks up speed, the breeze can be surprisingly chilly. Please ensure you bring a windproof/waterproof jacket for protection and sturdy footwear. We also suggest you apply sun block and bring a broad brimmed hat if your skin is sensitive to sun.  Although tea and coffee can be made, we suggest you bring snacks or a picnic as fresh sea air can make you very peckish. Also important to keep hydrated by drinking plenty of fluids during the 4 hour+ trip.
Our trips are a min. of 4 hours duration, all of which is spent searching for wildlife. So no gimmicks, like dropping you off on an island for refreshments during your trip!

We do not recommend our trips for children younger than 5 (especially in Winter), although the final decision rests with parents/guardians.
We do not take dogs/pets on board (unless they are trained assistance dogs)