Whale Watch Trip Availability (Viewing only). Click "Book Now" link below if booking.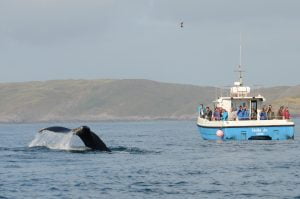 When it comes to unique wildlife encounters there are few things as breath-taking and humbling as coming face to face with the world's largest creatures.
Whale watching is one of those activities that comes close to the top of every "100 things to do before you die" bucket list ever compiled — and it's much more accessible than you might think.
World Class Whale Watching in Ireland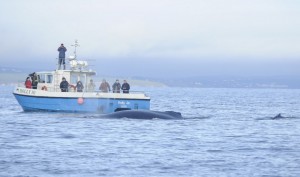 When most people think of whale watching they immediately think of distant shores… places like Iceland, Baja California, South Africa, New Zealand or Canada… places that can be difficult and expensive to get to.
But the truth is you don't have to travel far to access truly world class whale watching. You'll find some of the best whale watching opportunities in the North Atlantic aboard the Holly Jo with Cork Whale Watch.
West Cork, on the Irish south coast attracts minke whales, fin whales, and humpback whales to feed in its rich waters every year. A short drive or a cheap flight will get you to County Cork, and our purpose built whale watching vessel, the Holly Jo provides the ideal platform for that once-in-a-lifetime experience.

The Whales and Dolphins of West Cork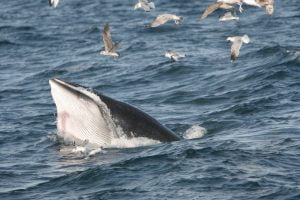 Every spring minke whales, Ireland's smallest baleen whales, return to the West Cork coast to feed. We see minkes regularly from late March onwards, through the summer and autumn into December. They are soon followed by  humpback whales in April, and fin whales are the last to arrive, from June onwards. All species are seen throughout the year until late autumn or early winter, usually in company with an abundance of common dolphins.
Weighing in at seventy tons, and reaching up to 23 metres (75 feet) in length fin whales are true ocean giants. These are the second largest animal ever to have lived, and an encounter with fin whales off the coast of West Cork will stay with you for a lifetime. It is one of the most awe inspiring experiences in the natural world.
Through his diligent recording of humpback and fin whale sightings in West Cork over the last 22 years, Cork Whale Watch skipper Colin Barnes has added to the body of scientific knowledge on these amazing creatures in Irish waters, and made a significant contribution to both the Irish Fin and Humpback Whale Catalogues — unique resources curated by the Irish Whale and Dolphin Group that allows cetacean researchers identify and recognise individual animals that return year after year and for some animals decade after decade.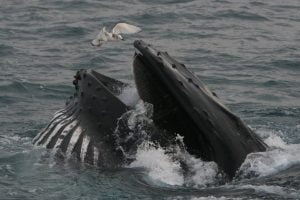 Humpback whales are the most popular species with many whale watchers due to their elaborate behavioural repertoire. Humpbacks really are the acrobats of the whale world, and an encounter with humpbacks off West Cork will often involve a range of behaviour like tail-fluking, lob-tailing, fin-slapping, spy hopping, lunge feeding, bubble netting and occasionally a complete breach, where the entire whale leaps clear of the water.
One humpback, first observed from the deck of the Holly Jo in 2001, earned the nickname "Boomerang" from his habit of returning to the same West Cork waters in at least fifteen of the past 21 years (2001 – 2022). Boomerang was last recorded here in West Cork in October 2022, and we've enjoyed his company over the last three seasons in a row. He is easily recognisable by his damaged dorsal fin and the unique pattern on the ventral surface of his tail fluke.
Colin's work, and the photo-ID platform provided by the Holly Jo and Cork Whale Watch for the IWDG www.iwdg.ie has also provided a substantial contribution to the Irish Humpback Whale Catalogue which currently has 115 identifiable individual humpbacks and counting, many of whom have been recorded over one or more years.
Dolphins & Porpoise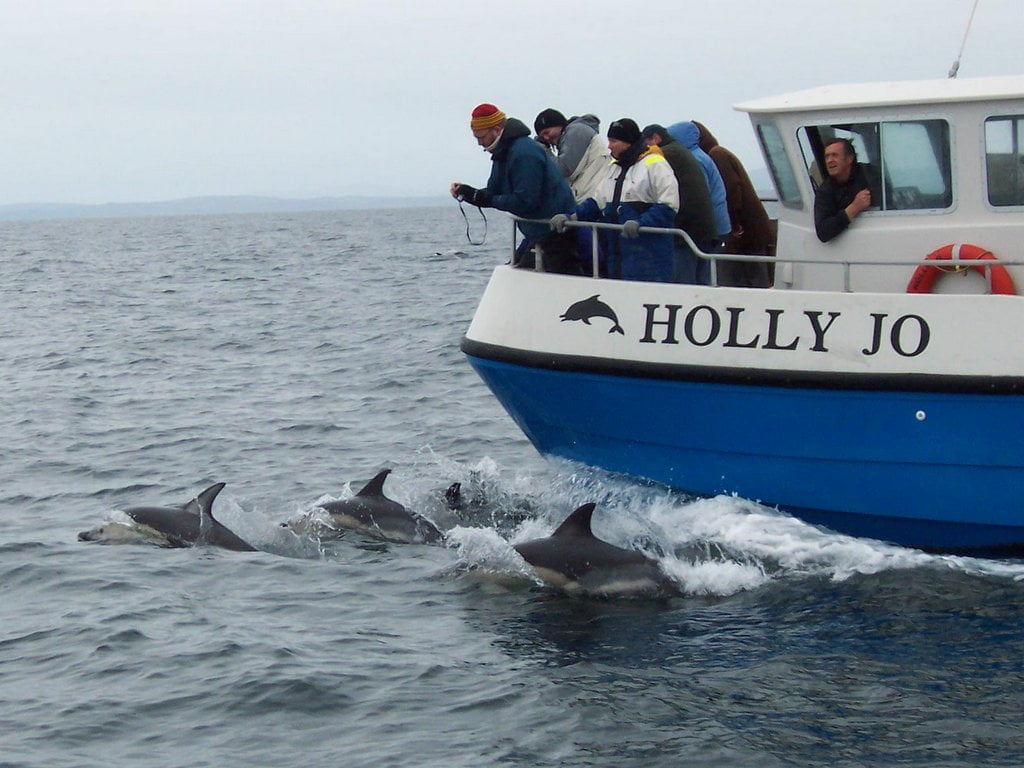 Common dolphins bow riding the Holly Jo (Photo by Daniel Lettice)
Common dolphins, as the name suggests, are our most frequently observed cetacean. We encounter them regularly during summer, autumn and winter, and they often approach our boat, bow-riding just ahead of us and leaping acrobatically alongside, offering some amazing close-up views. We often see very large groups of common dolphins that include mothers with their calves. Contrary to popular belief, the best time to see the largest aggregations of dolphins is not summer but during the large whale season in late Autumn early winter.
The harbour porpoise is our smallest cetacean and although elusive, can be seen regularly in calm conditions, but they are difficult to detect in choppier sea states.
Bottlenose dolphins turn up occasionally along with occasional visits from Risso's dolphins and Atlantic white-sided dolphins. Once in a while the ocean's apex predator, the killer whale cruises through West Cork waters, although sightings of them are extremely rare events.