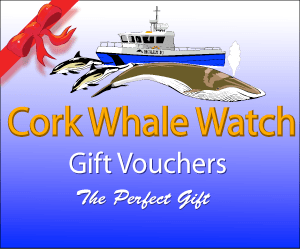 Do you know somebody passionate about whales and dolphins or whale watching?
If you do and you're struggling with a gift idea for that special occasion, a gift voucher for a Whale Watching trip on the MV Holly Jo with Colin Barnes may be just what you're looking for. Please note our vouchers are not for corporate use and if your business wishes to avail of our vouchers, then you should contact us directly on 086 3273226 or by email [email protected].
An ideal gift for Whale & Dolphin enthusiasts, birders, photographers and anyone with an appreciation of our Natural History.
Cork Whale Watch is delighted to offer you the opportunity to purchase a gift voucher to the value of €55 per person. These rates DO NOT apply to bulk purchases for businesses or corporates.
Order your voucher now using the Buy Now button!
We will honour all vouchers at any time, as they have no expiry date. But be warned, the longer you leave them in your bottom drawer, the less likely you are to use them!
When booking your whale watch trip with us, please let us know that you'll be paying by voucher, and simply present your voucher to Colin on the boat on the day.
*Important…as with all gift vouchers, ours are non refundable and therefore may be unsuitable for overseas visitors, or those who are only in the area for a short period.  If you don't get to use your vouchers, due to your trip(s) being cancelled to weather, you can of course use them at any future time (weather permitting), but we do NOT offer cash refunds. This is the inherent risk in buying vouchers!
Our whale watching trips are:
all skippered by Colin Barnes, Ireland's longest established and most experienced whale watch captain.
a minimum of 4 hours duration (often longer), all of which is spent searching for whales.
Depart from tranquil Reen Pier (5 minutes outside Union Hall village, West Cork)
run year-round, but most trips are during April-November, due to weather constraints.
subject to the vagaries of North Atlantic weather and demand and as such may not be suitable for people living overseas or who have limited opportunities for getting down to us.
Non refundable in the event of your trip(s) being cancelled to weather.
For up-to- date information on trip availability, weather and what we're seeing, keep an eye on the daily updates on our Facebook page.
Order Your Voucher
Voucher Prices
Each gift voucher costs €55 and is redeemable for one place aboard a trip on the Holly Jo.
Online Payment
The quickest and easiest way to order your voucher is to use the Buy Now button below to pay securely online. We'll send out your voucher(s) along with an informative brochure as soon as we receive notification of your order via Paypal.
Here's how it works:
Simply click on the Buy Now button and you'll be taken to a secure PayPal order page where you can specify the number of vouchers you want to purchase and pay using either Paypal or any major credit or debit card (NB. you do not need a PayPal account to complete your purchase).
Once your payment clears, we receive notification of your order and we will post you out your voucher(s) to the shipping address you've provided. Please ensure you give us the correct Eircode/Postcode.
Alternative payment options / questions
While the online payment method outlined above is the quickest and easiest way to order your gift vouchers (and our preferred method), we realise it may not suit everybody. If you'd prefer to order your voucher via a more traditional route here's how:
Send your cheque or postal order payable to Cork Whale Watch to the following address:
Cork Whale Watch, c/o Colin Barnes, Inane, Castletownshend, Co. Cork P81 V960.
Please indicate how many vouchers (€55 each) you need, and provide the postal address you'd like your voucher delivered to
We recommend you do not send cash through the post
Please ensure you allow plenty of time for your order to reach us, your payment to clear, and your voucher to arrive at its destination via the Irish postal system.
If you have any questions about our gift vouchers get in touch via our contact page and we'll be happy to help.